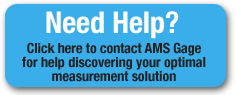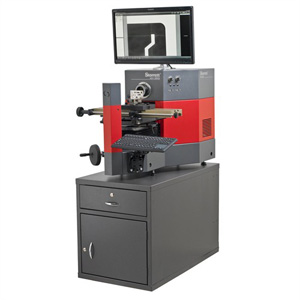 Starrett HDV 300/400
Starrett's new HDV horizontal digital video comparators combine the best features of a horizontal optical comparator and a vision metrology system. With a rigid steel design, they are configured like a traditional horizontal comparator. The workstage is the same as the Starrett field-proven HB400 and HD400 comparators, with a 50kg load capacity. The heart of the system centers on a uniquely mounted 5MP digital video camera and are available with a choice of seven telecentric lenses for micron-level resolution and optical distortion as low as 0.001% for accurate FOV measurements. Lenses provide a maximum FOV of up to 62mm x 47 mm. Stage movement can be related to the imported file allowing part comparison up to 400mm long.
The HDV systems house a powerful 64-bit PC, which runs MetLogix M3 Metrology software. With this software, DXF CAD files can be imported and 2D Go-No-Go gauges can be developed directly from the CAD files. Video edge detection (VED), allows real-time interaction of the imported file with the video image of the part being inspected. Productivity, speed and accuracy are all enhanced.