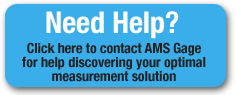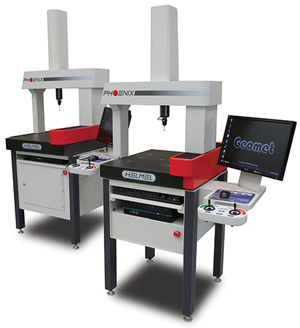 Phoenix
The Phoenix line of CMMs offers two popular sizes to fit your quality inspection needs.
Building on decades of experience with shop floor Coordinate Measuring Machines, Helmel now offers the Phoenix... a heavy-duty, DCC version of its popular Checkmaster bench-top manual CMMs. The Phoenix is made for harsh environments, with well-placed covers that prevent temperature shock. Its steel measuring scales on metal structures assure uniform expansion.
The Phoenix CMM incorporates all the time-proven features of its "big brother", the Microstar: hardened precision-ground ways, dual beam bridge with reliable V-and-Flat bearing arrangement and intrinsic accuracy. The latter is very important to reliably retain accuracy over time and reduce calibration cost. The Phoenix comes equipped with a full granite base and ergonomic stand.
The motorized system is outfitted with the powerful PMAC controller, the latest computer system and our proprietary GEOMET software, the best CMM package on the market.
An optional Renishaw UCC2 Controller can be ordered to enhance capabilities in support of the PH20 Probe with "head-tap" mode or SP25 continuous scanning.
Standard Features
Dual beam bridge design
Bearings, ways, drives and scales are covered
Precision bearings on hardened and ground ways
Non-contact optical steel scales mounted on steel structure
.5µm (.000020") Resolution
Granite base
3/8-16 clamping inserts
Wired for Renishaw Touch Trigger Probes
Machine Cabinet
Rugged 3-axis joystick
Latest computer hardware
Flat panel LCD monitor
Pull-out keyboard with GEOMET Keystroke Magic™ key labels
GEOMET 101 DCC software
Training part and manual
1" (25.4mm) calibration sphere
1 Year Warranty
On-line access to software upgrades
Options
Renishaw Probe Systems TP-ES, RTP20, PH6, PH6M and PH10T with TP20 or TP200 probes
PH20 and SP25M Scanning available when using the Renishaw UCC2 controller
Renishaw Stylus change racks MCR20 and SCR200
GEOMET 301
Color Printer
ProLink QC-Calc SPC Software
UPS Battery back-up system
Clamp kit
Vibration Isolation pads
Casters for portability
Turnkey Systems - have Helmel provide complete fixture design/build and part programming for your projects. We can deliver your new CMM ready to run
Integrate your Helmel CMM into a cell or production line with our I/O Option to communicate with automation and provide output for process control